The Six Colts, Two Weeks, Volume Three is now released and shipping!
As you can see, Mirage is totally enthralled. Copies are now available for order via Paypal at this link.

This hefty volume (400+ pages and 200 photos) completes the Six Colts, Two Weeks trilogy--a series eight years in the making that is a unique memoir documenting the one and only colt starting clinic taught by distinguished horsemanship clinician Harry Whitney.

"You've got to know that it can be and let it happen," is Harry Whitney's quote that begins this new book.
"You can't make it be."

This series shares a view of horsemanship that'll change how you think, how you perceive horsemanship, and how you approach horses--it surely has been a life changer for me. And as for starting colts, as Harry says, "So they're started, so they go...." And did we ever witness some amazing firsts with these six young horses! Enjoy!
Tom Moates Publishes First Novel, 
The Old Sleeper!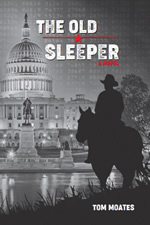 Tom Moates, one of America's best known equestrian authors, releases his first foray into fiction: The Old Sleeper, a spy novel.
The Old Sleeper is a fresh yet timeless voice in the classic spy mystery genre, Moates says.

Agent Gene Davis, is horseback enjoying his first week of retirement from the CIA on his newly acquired Arizona ranch when his cell phone rings.  It's his old boss, Jeb, and Gene gets pulled back into action for one last mission.

Tom Moates cleverly weaves a suspenseful plot while depicting an historical crossroads as the age of World War II and the Cold War collide with our modern moment of extremist terrorism and shifting values.  The story unfolds among America's ranchlands, Washington, D.C., modern day Moscow, and reaches its climax with World War II era fighter planes and modern fighter jets in one of the most gripping aerial dogfights in all of fiction.
About Tom Moates
Tom Moates is a leading equestrian journalist and author. This award winning writer is on the masthead of Equus magazine as a Contributing Writer, and his articles run in many horse magazines in the United States and abroad including: Ranch & Reata, Eclectic-Horseman, America's Horse, and Western Horseman. Moates's newest book, Six Colts, Two Weeks, joins his other titles, Discovering Natural Horsemanship, A Horse's Thought, Between the Reins, Further Along the Trail, Going Somewhere, and Passing It On, all established titles in the library of modern horsemanship literature. A compilation of his most notable articles and essays, Round-Up: A Gathering of Equine Writings, was published in 2011. Moates lives on a solar powered farm with his wife Carol and a herd of horses in the Blue Ridge Mountains of Virginia. Book ordering info and Moates's latest publishing news are available at www.TomMoates.com.
There are miles of difference between journalists and writers, between reporting and telling a story. This is a sterling example of the latter. The writer here never gets in the way of what is a most engaging tale. The writer never succumbs to sensationalism or sentimentality, easy temptations with a subject of this nature. Word selection, pacing, organization--it's all here, beautiful in its simplicity, so much hard work appearing so effortless." From American Horse Publications: regarding Moates's award winning cover feature in Equus magazine, "A Cross-Country Ride Like No Other."